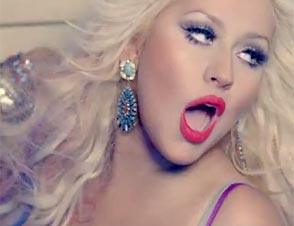 It looks like Christina
Aguilera's music video for her new lead single, "Your Body," is going to be a racy one — no surprise there.
The latest preview of the forthcoming visuals captures Xtina being her usual
"Dirrty" self, flipping her pink and purple hair extensions and batting her
heavily made-up eyes as she makes out with a man over shearling-covered car
seats.
And from one provocative pop star to the
next, Madonna has provided further explanation for her misconstrued
statement about President Obama's religion. After urging Washington D.C.
concertgoers to "vote for f–king Obama," whom she called a "black Muslim,"
Madge says she is well aware that the president does not actually practice
Islam. She was being "ironic," duh.
PSY's "Gangnam Style" just wont quit. In fact, it's just getting
started! With 282.9 million views on YouTube to date, the viral video has broken
a Guinness World Record and become the most liked video ever on the site, with
over 2.8 million thumbs-up.
Wait … are Simon Cowell
and Carmen Electra hooking up?!
As she so proudly tweeted earlier today (Sept.
26), after 13 years in the business and six records, Pink's The Truth About Love has earned the singer her very
first No. 1 album in the U.S. And, the new studio release debuted at
the top, thank you very much!